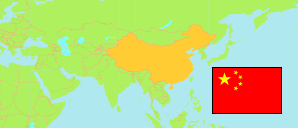 Sōnglĭng Qū
District in Hēilóngjiāng
Contents:

Population

The population development of Sōnglĭng Qū as well as related information and services (Wikipedia, Google, images).
Name
Status
Native
Population
Census
2000-11-01
Population
Census
2010-11-01
Population
Census
2020-11-01

Sōnglĭng Qū

[

← Èlúnchūn Zìzhìqí (Oroqen Banner, Inner Mongolia)

]
District

松岭区

36,292
33,555
15,996
Hēilóngjiāng
Province

黑龙江省

36,237,576
38,313,991
31,850,088
Source: China National Bureau of Statistics (web), Heilongjiang Bureau of Statistics (web).
Explanation: Status and division as of 2020, as far as sufficient information is available. Area figures are computed by using geospatial data. Sōnglĭng Qū and Jiāgédáqí Qū are districts in Inner Mongolia that are managed by Hēilóngjiāng.
---
Further information about the population structure:
Gender (C 2020)
Males
8,144
Females
7,852
Urbanization (C 2020)
Rural
1,124
Urban
14,872
Age Groups (C 2020)
0-14 years
751
15-64 years
12,172
65+ years
3,073
Age Distribution (C 2020)
0-9 years
400
10-19 years
642
20-29 years
1,368
30-39 years
1,209
40-49 years
4,040
50-59 years
4,246
60-69 years
1,841
70-79 years
1,741
80+ years
509
---