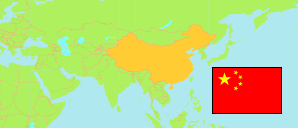 Pánzhōu Shì
County-level City in Guìzhōu
Contents:

Population

The population development of Pánzhōu Shì as well as related information and services (Wikipedia, Google, images).
Name
Status
Native
Population
Census
2000-11-01
Population
Census
2010-11-01
Population
Estimate
2018-12-31

Pánzhōu Shì

[

← Pán Xiàn

]
County-level City

盘州市

1,070,802
1,035,345
1,065,100
Guìzhōu
Province

贵州省

35,247,695
34,748,556
36,000,000
Source: China National Bureau of Statistics (web), Guizhou Provincial Bureau of Statistics (web).
Explanation: The population changes are partly result of boundary changes. Status and division as of 2018, as far as sufficient information is available. Area figures are computed by using geospatial data.
---
Further information about the population structure:
Gender (C 2010)
Males
543,884
Females
491,461
Urbanization (C 2010)
Rural
859,108
Urban
176,237
Age Groups (C 2010)
0-14 years
226,249
15-64 years
729,546
65+ years
79,550
Age Distribution (C 2010)
0-9 years
104,891
10-19 years
216,555
20-29 years
167,767
30-39 years
178,957
40-49 years
156,702
50-59 years
97,382
60-69 years
61,349
70-79 years
40,230
80+ years
11,512
Generations in Household (C 2010)
1
125,833
2
205,515
3
15,442
4+
244
---