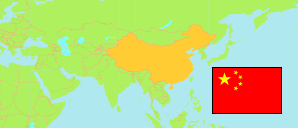 Diànbái Qū
District in Guăngdōng
Contents:

Population

The population development of Diànbái Qū as well as related information and services (Wikipedia, Google, images).
Name
Status
Native
Population
Census
2000-11-01
Population
Census
2010-11-01
Population
Census
2020-11-01

Diànbái Qū

[

Màogăng Qū

]
District

电白区

1,342,953
1,495,101
1,503,737
Guăngdōng
Province

广东省

85,225,007
104,320,459
126,012,510
Source: China National Bureau of Statistics (web), Bureaus of Statistics in Guangdong (web).
Explanation: The population figures of Shànwĕi Shì and Hăifēng Xiàn include the population (65,663 in 2020) of Shēnshàn Special Cooperation Zone that is administrated by Shēnzhèn Shì. Status and division as of 2020, as far as sufficient information is available. Area figures are computed by using geospatial data.
---
Further information about the population structure:
Gender (C 2020)
Males
792,635
Females
711,102
Urbanization (C 2020)
Rural
895,937
Urban
607,800
Age Groups (C 2020)
0-14 years
406,656
15-64 years
922,278
65+ years
174,803
Age Distribution (C 2020)
0-9 years
280,624
10-19 years
213,126
20-29 years
196,874
30-39 years
214,362
40-49 years
171,700
50-59 years
183,229
60-69 years
127,035
70-79 years
71,687
80+ years
45,100
---