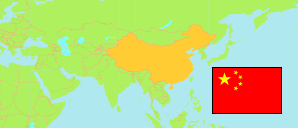 Nánhăi Qū
District in Guăngdōng
Contents:

Population

The population development of Nánhăi Qū as well as related information and services (Wikipedia, Google, images).
Name
Status
Native
Population
Census
2000-11-01
Population
Census
2010-11-01
Population
Census
2020-11-01

Nánhăi Qū

District

南海区

2,133,741
2,588,844
3,667,247
Guăngdōng
Province

广东省

85,225,007
104,320,459
126,012,510
Source: China National Bureau of Statistics (web), Bureaus of Statistics in Guangdong (web).
Explanation: The population figures of Shànwĕi Shì and Hăifēng Xiàn include the population (65,663 in 2020) of Shēnshàn Special Cooperation Zone that is administrated by Shēnzhèn Shì. Status and division as of 2020, as far as sufficient information is available. Area figures are computed by using geospatial data.
---
Further information about the population structure:
Gender (C 2020)
Males
2,006,179
Females
1,661,068
Urbanization (C 2020)
Rural
144,834
Urban
3,522,413
Age Groups (C 2020)
0-14 years
557,465
15-64 years
2,860,687
65+ years
249,095
Age Distribution (C 2020)
0-9 years
409,938
10-19 years
306,245
20-29 years
635,993
30-39 years
842,056
40-49 years
657,500
50-59 years
458,865
60-69 years
208,193
70-79 years
107,773
80+ years
40,684
---