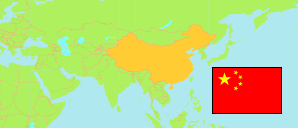 Zhōngshān Shì
Prefecture-level City in Guăngdōng
Contents:

Subdivision

The population development in Zhōngshān Shì as well as related information and services (Wikipedia, Google, images).
Name
Status
Native
Population
Census
2000-11-01
Population
Census
2010-11-01
Population
Census
2020-11-01

Zhōngshān Shì

Prefecture-level City

中山市

2,363,322
3,121,275
4,418,060

Zhōngshān Shìxiáqū

County-level City

中山 市辖区

2,363,322
3,121,275
4,418,060
→
Guăngdōng
Province

广东省

85,225,007
104,320,459
126,012,510
Source: China National Bureau of Statistics (web), Bureaus of Statistics in Guangdong (web).
Explanation: The population figures of Shànwĕi Shì and Hăifēng Xiàn include the population (65,663 in 2020) of Shēnshàn Special Cooperation Zone that is administrated by Shēnzhèn Shì. Status and division as of 2020, as far as sufficient information is available. Area figures are computed by using geospatial data.
---
Further information about the population structure:
---