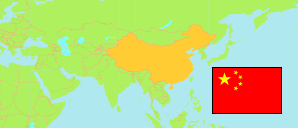 Chéngguān Qū
District in Gānsù
Contents:

Population

The population development of Chéngguān Qū as well as related information and services (Wikipedia, Google, images).
Name
Native
Status
Population
Census
2000-11-01
Population
Census
2010-11-01
Population
Estimate
2018-12-31

Chéngguān Qū

城关区

District
936,888
1,278,745
1,319,100
Gānsù

甘肃省

Province
25,124,282
25,575,263
26,373,000
Source: China National Bureau of Statistics (web), Gansu Bureau of Statistics (web).
Explanation: The population changes are partly result of boundary changes. Status and division as of 2018, as far as sufficient information is available.
---
Further information about the population structure:
Gender (C 2010)
Males
648,495
Females
630,250
Urbanization (C 2010)
Rural
19,547
Urban
1,259,198
Age Groups (C 2010)
0-14 years
151,923
15-64 years
1,017,364
65+ years
109,458
Age Distribution (C 2010)
0-9 years
99,486
10-19 years
138,490
20-29 years
278,126
30-39 years
234,183
40-49 years
232,773
50-59 years
144,481
60-69 years
76,773
70-79 years
59,080
80+ years
15,353
Generations in Household (C 2010)
1
193,658
2
204,784
3
37,947
4+
255
---