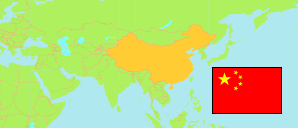 Húlĭ Qū
District in Fújiàn
Contents:

Population

The population development of Húlĭ Qū as well as related information and services (Wikipedia, Google, images).
Name
Native
Status
Population
Census
2000-11-01
Population
Census
2010-11-01
Population
Estimate
2018-12-31

Húlĭ Qū

湖里区

District
413,316
931,291
1,031,000
Fújiàn

福建省

Province
34,097,947
36,894,217
39,410,000
Source: China National Bureau of Statistics (web), Fujian Bureau of Statistics (web).
Explanation: The population changes are partly result of boundary changes. Status and division as of 2018, as far as sufficient information is available. Area figures are computed by using geospatial data.
---
Further information about the population structure:
Gender (C 2010)
Males
491,222
Females
440,069
Urbanization (C 2010)
Urban
931,291
Age Groups (C 2010)
0-14 years
120,565
15-64 years
791,650
65+ years
19,076
Age Distribution (C 2010)
0-9 years
91,286
10-19 years
90,148
20-29 years
320,332
30-39 years
222,316
40-49 years
126,620
50-59 years
47,831
60-69 years
21,373
70-79 years
8,474
80+ years
2,911
Generations in Household (C 2010)
1
239,593
2
114,952
3
19,245
4+
250
---