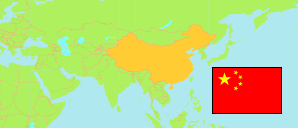 Sīmíng Qū
District in Fújiàn
Contents:

Population

The population development of Sīmíng Qū as well as related information and services (Wikipedia, Google, images).
Name
Native
Status
Population
Census
2000-11-01
Population
Census
2010-11-01
Population
Estimate
2018-12-31

Sīmíng Qū

思明区

District
683,256
929,998
1,015,000
Fújiàn

福建省

Province
34,097,947
36,894,217
39,410,000
Source: China National Bureau of Statistics (web), Fujian Bureau of Statistics (web).
Explanation: The population changes are partly result of boundary changes. Status and division as of 2018, as far as sufficient information is available. Area figures are computed by using geospatial data.
---
Further information about the population structure:
Gender (C 2010)
Males
456,490
Females
473,508
Urbanization (C 2010)
Urban
929,998
Age Groups (C 2010)
0-14 years
119,453
15-64 years
745,195
65+ years
65,350
Age Distribution (C 2010)
0-9 years
83,977
10-19 years
87,470
20-29 years
240,399
30-39 years
183,210
40-49 years
146,493
50-59 years
91,094
60-69 years
53,940
70-79 years
32,021
80+ years
11,394
Generations in Household (C 2010)
1
141,577
2
137,902
3
34,853
4+
372
---