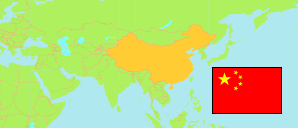 Fúqīng Shì
County-level City in Fújiàn
Contents:

Population

The population development of Fúqīng Shì as well as related information and services (Wikipedia, Google, images).
Name
Status
Native
Population
Census
2000-11-01
Population
Census
2010-11-01
Population
Estimate
2018-12-31

Fúqīng Shì

County-level City

福清市

1,174,540
1,234,838
1,316,000
Fújiàn
Province

福建省

34,097,947
36,894,217
39,410,000
Source: China National Bureau of Statistics (web), Fujian Bureau of Statistics (web).
Explanation: The population changes are partly result of boundary changes. Status and division as of 2018, as far as sufficient information is available. Area figures are computed by using geospatial data.
---
Further information about the population structure:
Gender (C 2010)
Males
627,553
Females
607,285
Urbanization (C 2010)
Rural
764,014
Urban
470,824
Age Groups (C 2010)
0-14 years
211,870
15-64 years
920,099
65+ years
102,869
Age Distribution (C 2010)
0-9 years
145,552
10-19 years
169,920
20-29 years
246,913
30-39 years
208,076
40-49 years
184,822
50-59 years
134,931
60-69 years
71,961
70-79 years
46,771
80+ years
25,892
Generations in Household (C 2010)
1
114,700
2
169,936
3
67,314
4+
2,917
---