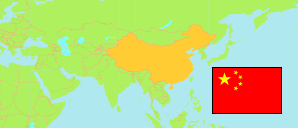 Héchuān Qū
District in Chóngqìng
Contents:

Population

The population development of Héchuān Qū as well as related information and services (Wikipedia, Google, images).
Name
Status
Native
Population
Census
2000-11-01
Population
Census
2010-11-01
Population
Census
2020-11-01

Héchuān Qū

District

合川区

1,420,520
1,293,028
1,245,294
Chóngqìng
Municipal Province

重庆市

30,512,763
28,846,170
32,054,159
Source: China National Bureau of Statistics (web), Chongqing Statistics (web).
Explanation: Status and division as of 2020, as far as sufficient information is available. Area figures are computed by using geospatial data.
---
Further information about the population structure:
Gender (C 2020)
Males
625,285
Females
620,009
Urbanization (C 2020)
Rural
449,514
Urban
795,780
Age Groups (C 2020)
0-14 years
169,123
15-64 years
812,833
65+ years
263,338
Age Distribution (C 2020)
0-9 years
100,238
10-19 years
137,221
20-29 years
154,100
30-39 years
126,242
40-49 years
168,027
50-59 years
222,396
60-69 years
174,562
70-79 years
115,669
80+ years
46,839
---