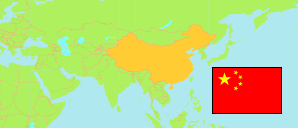 Shāpíngbà Qū
District in Chóngqìng
Contents:

Population

The population development of Shāpíngbà Qū as well as related information and services (Wikipedia, Google, images).
Name
Status
Native
Population
Census
2000-11-01
Population
Census
2010-11-01
Population
Census
2020-11-01

Shāpíngbà Qū

District

沙坪坝区

789,359
1,000,013
1,477,345
Chóngqìng
Municipal Province

重庆市

30,512,763
28,846,170
32,054,159
Source: China National Bureau of Statistics (web), Chongqing Statistics (web).
Explanation: Status and division as of 2020, as far as sufficient information is available. Area figures are computed by using geospatial data.
---
Further information about the population structure:
Gender (C 2020)
Males
734,306
Females
743,039
Urbanization (C 2020)
Rural
49,996
Urban
1,427,349
Age Groups (C 2020)
0-14 years
201,087
15-64 years
1,099,291
65+ years
176,967
Age Distribution (C 2020)
0-9 years
145,322
10-19 years
161,211
20-29 years
288,285
30-39 years
249,167
40-49 years
183,200
50-59 years
202,340
60-69 years
148,277
70-79 years
67,372
80+ years
32,171
---