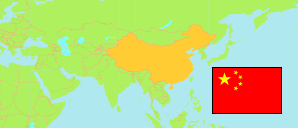 Yúnyáng Xiàn
County in Chóngqìng
Contents:

Population

The population development of Yúnyáng Xiàn as well as related information and services (Wikipedia, Google, images).
Name
Status
Native
Population
Census
2000-11-01
Population
Census
2010-11-01
Population
Estimate
2018-12-31

Yúnyáng Xiàn

County

云阳县

1,219,647
912,912
931,400
Chóngqìng
Municipal Province

重庆市

30,512,763
28,846,170
31,018,000
Source: China National Bureau of Statistics (web), Chongqing Statistics (web).
Explanation: The population changes are partly result of boundary changes. Status and division as of 2018, as far as sufficient information is available.
---
Further information about the population structure:
Gender (C 2010)
Males
456,793
Females
456,119
Urbanization (C 2010)
Rural
619,276
Urban
293,636
Age Groups (C 2010)
0-14 years
199,479
15-64 years
597,966
65+ years
115,467
Age Distribution (C 2010)
0-9 years
116,585
10-19 years
177,331
20-29 years
86,761
30-39 years
116,351
40-49 years
132,708
50-59 years
110,014
60-69 years
102,292
70-79 years
52,847
80+ years
18,023
Generations in Household (C 2010)
1
153,393
2
142,727
3
41,470
4+
1,295
---