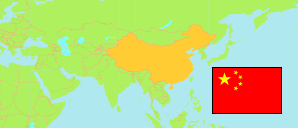 Bìshān Qū
District in Chóngqìng
Contents:

Population

The population development of Bìshān Qū as well as related information and services (Wikipedia, Google, images).
Source: China National Bureau of Statistics (web), Chongqing Statistics (web).
Explanation: The population changes are partly result of boundary changes. Status and division as of 2018, as far as sufficient information is available.
---
Further information about the population structure:
Gender (C 2010)
Males
297,752
Females
288,282
Urbanization (C 2010)
Rural
339,609
Urban
246,425
Age Groups (C 2010)
0-14 years
89,102
15-64 years
424,001
65+ years
72,931
Age Distribution (C 2010)
0-9 years
56,623
10-19 years
72,230
20-29 years
69,996
30-39 years
88,991
40-49 years
112,871
50-59 years
79,562
60-69 years
59,344
70-79 years
33,259
80+ years
13,158
Generations in Household (C 2010)
1
99,387
2
82,954
3
32,517
4+
1,310
---