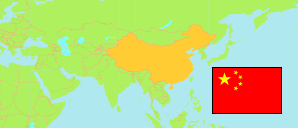 Yŏngchuān Qū
District in Chóngqìng
Contents:

Population

The population development of Yŏngchuān Qū as well as related information and services (Wikipedia, Google, images).
Name
Status
Native
Population
Census
2000-11-01
Population
Census
2010-11-01
Population
Estimate
2018-12-31

Yŏngchuān Qū

District

永川区

984,730
1,024,708
1,142,000
Chóngqìng
Municipal Province

重庆市

30,512,763
28,846,170
31,018,000
Source: China National Bureau of Statistics (web), Chongqing Statistics (web).
Explanation: The population changes are partly result of boundary changes. Status and division as of 2018, as far as sufficient information is available.
---
Further information about the population structure:
Gender (C 2010)
Males
518,100
Females
506,608
Urbanization (C 2010)
Rural
441,939
Urban
582,769
Age Groups (C 2010)
0-14 years
175,453
15-64 years
733,962
65+ years
115,293
Age Distribution (C 2010)
0-9 years
120,603
10-19 years
142,801
20-29 years
153,618
30-39 years
136,855
40-49 years
170,722
50-59 years
134,174
60-69 years
92,445
70-79 years
52,143
80+ years
21,347
Generations in Household (C 2010)
1
123,560
2
135,791
3
58,374
4+
2,330
---