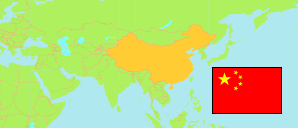 Wànzhōu Qū
District in Chóngqìng
Contents:

Population

The population development of Wànzhōu Qū as well as related information and services (Wikipedia, Google, images).
Name
Status
Native
Population
Census
2000-11-01
Population
Census
2010-11-01
Population
Estimate
2018-12-31

Wànzhōu Qū

District

万州区

1,648,870
1,563,050
1,647,500
Chóngqìng
Municipal Province

重庆市

30,512,763
28,846,170
31,018,000
Source: China National Bureau of Statistics (web), Chongqing Statistics (web).
Explanation: The population changes are partly result of boundary changes. Status and division as of 2018, as far as sufficient information is available.
---
Further information about the population structure:
Gender (C 2010)
Males
779,146
Females
783,904
Urbanization (C 2010)
Rural
703,388
Urban
859,662
Age Groups (C 2010)
0-14 years
233,122
15-64 years
1,146,900
65+ years
183,028
Age Distribution (C 2010)
0-9 years
138,010
10-19 years
240,221
20-29 years
179,185
30-39 years
249,829
40-49 years
275,468
50-59 years
203,546
60-69 years
162,418
70-79 years
84,656
80+ years
29,717
Generations in Household (C 2010)
1
198,522
2
239,801
3
88,379
4+
2,679
---