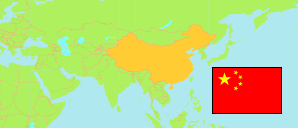 Hăidiàn Qū
District in Bĕijīng
Contents:

Population

The population development of Hăidiàn Qū as well as related information and services (Wikipedia, Google, images).
Name
Status
Native
Population
Census
2000-11-01
Population
Census
2010-11-01
Population
Estimate
2018-12-31

Hăidiàn Qū

District

海淀区

2,240,124
3,280,670
3,358,000
Bĕijīng
Municipal Province

北京市

13,569,194
19,612,368
21,542,000
Source: China National Bureau of Statistics (web), Beijing Municipal Bureau of Statistics (web).
Explanation: The population changes are partly result of boundary changes. Status and division as of 2018, as far as sufficient information is available.
---
Further information about the population structure:
Gender (C 2010)
Males
1,694,525
Females
1,586,145
Urbanization (C 2010)
Rural
72,107
Urban
3,208,563
Age Groups (C 2010)
0-14 years
253,034
15-64 years
2,752,574
65+ years
275,062
Age Distribution (C 2010)
0-9 years
176,448
10-19 years
302,828
20-29 years
1,065,944
30-39 years
549,255
40-49 years
487,258
50-59 years
326,910
60-69 years
174,337
70-79 years
151,176
80+ years
46,514
Generations in Household (C 2010)
1
495,939
2
381,325
3
98,155
4+
957
---