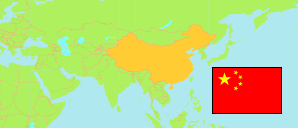 Huòqiū Xiàn
County in Ānhuī
Contents:

Population

The population development of Huòqiū Xiàn as well as related information and services (Wikipedia, Google, images).
Name
Status
Native
Population
Census
2000-11-01
Population
Census
2010-11-01
Population
Estimate
2018-12-31

Huòqiū Xiàn

County

霍邱县

1,231,400
1,168,366
1,198,000
Ānhuī
Province

安徽省

58,999,948
59,500,468
63,236,000
Source: China National Bureau of Statistics (web), Anhui Provincial Bureau of Statistics (web).
Explanation: The population changes are partly result of boundary changes. Status and division as of 2018, as far as sufficient information is available.
---
Further information about the population structure:
Gender (C 2010)
Males
719,777
Females
660,591
Urbanization (C 2010)
Rural
1,084,287
Urban
296,081
Age Groups (C 2010)
0-14 years
267,342
15-64 years
978,784
65+ years
134,242
Age Distribution (C 2010)
0-9 years
197,553
10-19 years
167,882
20-29 years
226,041
30-39 years
210,459
40-49 years
241,713
50-59 years
138,049
60-69 years
116,415
70-79 years
59,815
80+ years
22,441
Generations in Household (C 2010)
1
138,480
2
188,755
3
85,856
4+
4,487
---