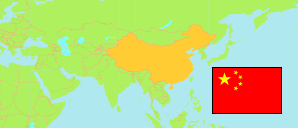 Qiáochéng Qū
District in Ānhuī
Contents:

Population

The population development of Qiáochéng Qū as well as related information and services (Wikipedia, Google, images).
Name
Status
Native
Population
Census
2000-11-01
Population
Census
2010-11-01
Population
Estimate
2018-12-31

Qiáochéng Qū

District

谯城区

1,351,939
1,409,436
1,523,000
Ānhuī
Province

安徽省

58,999,948
59,500,468
63,236,000
Source: China National Bureau of Statistics (web), Anhui Provincial Bureau of Statistics (web).
Explanation: The population changes are partly result of boundary changes. Status and division as of 2018, as far as sufficient information is available.
---
Further information about the population structure:
Gender (C 2010)
Males
717,269
Females
692,167
Urbanization (C 2010)
Rural
935,118
Urban
474,318
Age Groups (C 2010)
0-14 years
284,066
15-64 years
998,141
65+ years
127,229
Age Distribution (C 2010)
0-9 years
193,171
10-19 years
199,233
20-29 years
223,202
30-39 years
219,621
40-49 years
265,243
50-59 years
116,973
60-69 years
111,359
70-79 years
57,024
80+ years
23,610
Generations in Household (C 2010)
1
139,273
2
225,466
3
66,408
4+
3,440
---