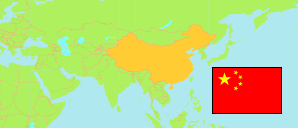 Hăinán Shĕngzhíxiáxiàn Jíxíngzhèng Qūhuà
directly administered in Hăinán Shĕng (China)
Contents:

Population

The population development of Hăinán Shĕngzhíxiáxiàn Jíxíngzhèng Qūhuà as well as related information and services (Wikipedia, Google, images).
Name
Status
Native
Population
Census
2000-11-01
Population
Census
2010-11-01
Population
Estimate
2017-12-31

Hăinán Shĕngzhíxiáxiàn Jíxíngzhèng Qūhuà

directly administered

海南省省直辖县级行政区划

4,732,416
5,007,107
5,227,500
Zhōnghuá Rénmín Gònghéguó [

People's Republic of China

]
Sovereign State

中华人民共和国

1,242,612,226
1,339,724,852
1,390,080,000
Source: (2000) (2010) China National Bureau of Statistics (web), (2017) several statistical yearbooks and bulletins (web).
Explanation: Status and division as of 2018, as far as sufficient information is available.
---
Further information about the population structure:
Gender (C 2010)
Males
3,169,002
Females
2,770,461
Urbanization (C 2010)
Rural
3,602,620
Urban
2,336,843
Age Groups (C 2010)
0-14 years
1,249,875
15-64 years
4,167,073
65+ years
522,515
Age Distribution (C 2010)
0-9 years
830,535
10-19 years
935,434
20-29 years
982,228
30-39 years
892,587
40-49 years
967,811
50-59 years
602,842
60-69 years
344,479
70-79 years
265,669
80+ years
117,878
Generations in Household (C 2010)
1
504,235
2
814,619
3
297,559
4+
12,713
---