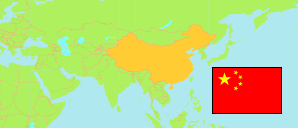 Xiāngxī Tŭjiāzú Miáozú Zìzhìzhōu
Tujia and Miao Autonomous Prefecture in Húnán Shĕng (China)
Contents:

Population

The population development of Xiāngxī Tŭjiāzú Miáozú Zìzhìzhōu as well as related information and services (Wikipedia, Google, images).
Name
Status
Native
Population
Census
2000-11-01
Population
Census
2010-11-01
Population
Estimate
2017-12-31

Xiāngxī Tŭjiāzú Miáozú Zìzhìzhōu

Tujia and Miao Autonomous Prefecture

湘西土家族苗族自治州

2,463,617
2,549,558
2,638,200
Zhōnghuá Rénmín Gònghéguó [

People's Republic of China

]
Sovereign State

中华人民共和国

1,242,612,226
1,339,724,852
1,390,080,000
Source: (2000) (2010) China National Bureau of Statistics (web), (2017) several statistical yearbooks and bulletins (web).
Explanation: Status and division as of 2018, as far as sufficient information is available.
---
Further information about the population structure:
Gender (C 2010)
Males
1,307,797
Females
1,241,761
Urbanization (C 2010)
Rural
1,664,242
Urban
885,316
Age Groups (C 2010)
0-14 years
510,134
15-64 years
1,793,027
65+ years
246,397
Age Distribution (C 2010)
0-9 years
332,405
10-19 years
406,162
20-29 years
410,393
30-39 years
383,382
40-49 years
397,129
50-59 years
250,253
60-69 years
206,719
70-79 years
120,499
80+ years
42,616
Generations in Household (C 2010)
1
145,649
2
331,462
3
173,038
4+
8,099
---