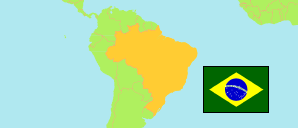 Barra do Garças
Municipality in Mato Grosso
Municipality
The population development of Barra do Garças.
Name
Status
Population
Census
1991-09-01
Population
Census
2000-08-01
Population
Census
2010-08-01
Population
Estimate
2019-07-01
Barra do Garças
Municipality
45,651
52,092
56,560
61,012
→

Mato Grosso

State
2,027,231
2,504,353
3,035,122
3,484,466
Contents:

Municipal Districts

The population development of the municipal districts in Barra do Garças.
Source: Instituto Brasileiro de Geografia e Estatistica (web).
Explanation: In the table above, the urban population of municipal districts is presented. The latest population of municipal districts is calculated by »City Population« using their 2010 census population and official latest estimates for the total municipalities. The area depicted in the map refers to the total territory of the municipal district including rural parts.