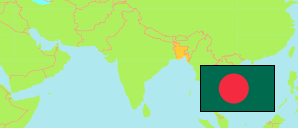 Gazipur Sadar
Subdistrict in Dhaka
Contents:

Population

The population development of Gazipur Sadar as well as related information and services (Wikipedia, Google, images).
Name
Status
Transcription
Native
District
Population
Census
1991-03-13
Population
Census
2001-01-22
Population
Census
2011-03-15

Gazipur Sadar

Subdistrict

Gājīpura Sadara

গাজীপুর সদর উপজেলা

Gazipur
588,492
866,540
1,820,374
Dhaka
Statistical Metropolitan Area

Ḍhākā

ঢাকা

6,487,459
9,672,763
14,543,124
Source: Bangladesh Bureau of Statistics (web).
Explanation: Area figures of city districts are derived from geospatial data.
---
Further information about the population structure:
Gender (C 2011)
males
976,683
females
843,691
Age Distribution (C 2011)
0-9 years
323,087
10-19 years
338,602
20-29 years
551,193
30-39 years
294,236
40-49 years
162,539
50-59 years
80,384
60-69 years
42,750
70-79 years
18,300
80+ years
9,283
Marital Status (C 2011)
unmarried
797,368
married
985,576
widowed
31,293
divorced/separated
6,137
Religion (C 2011)
Muslim
156,732
Hindu
14,727
Christian
25
Buddhist
4
other
6
Literacy (A7+) (C 2011)
yes
1,067,081
no
531,188
Activity Status (A7+) (C 2011)
employed
905,548
seeking work
12,053
household work
300,920
not working
379,748
Employment Field (C 2011)
agriculture
44,623
industry
564,277
service
296,648