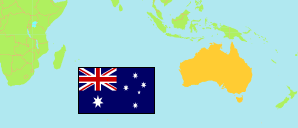 Bemboka
Contents:

Locality

The population development of Bemboka as well as related information and services (weather, Wikipedia, Google, images).
Source: Australian Bureau of Statistics (web).
Explanation: Different methods of counting and boundaries changes impair the comparability between population figures of different censuses. The 2021 figures refer to 2016 boundaries; they will be updated by future releases.
---
Further information about the population structure:
Gender (C 2021)
Males
169
Females
156
Age Groups (C 2021)
0-14 years
67
15-64 years
180
65+ years
81
Country of Birth (C 2021)
Australia
270
Other country
33
Language (C 2021)
English
298
Other language
11
Ethnic Group (C 2021)
Indigenous
19
Non-Indigenous
289
Religion (C 2021)
Christian
173
Buddhist
5
Other religion / belief
8
Secular / no religion
119
---