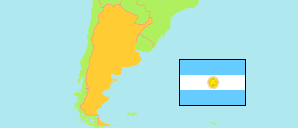 Presidencia de la Plaza
Department in Chaco (Argentina)
Contents:

Population

The population development of Presidencia de la Plaza as well as related information and services (Wikipedia, Google, images).
Name
Status
Population
Census
1991-05-15
Population
Census
2001-11-17
Population
Census
2010-10-27
Population
Census
2022-05-18

Presidencia de la Plaza

Department
10,828
12,231
12,499
14,003
Argentina
Republic
32,615,528
36,260,130
40,117,096
46,044,703
Source: Instituto Nacional de Estadística y Censos de la Republica Argentina (web).
Explanation: The results of the 2022 census are provisional.
---
Further information about the population structure:
Gender (C 2022)
Males
6,819
Females
7,161
Intersex
2
Age Groups (C 2010)
0-14 years
4,073
15-64 years
7,526
65+ years
900
Age Distribution (C 2010)
0-9 years
2,543
10-19 years
3,020
20-29 years
1,883
30-39 years
1,515
40-49 years
1,194
50-59 years
1,049
60-69 years
677
70-79 years
445
80+ years
173
Country of Birth (C 2010)
Argentina
12,469
Bordering Country
20
America (other)
3
Europe
6
Other country
1
Literacy (A10+) (C 2010)
yes
9,289
no
667
---