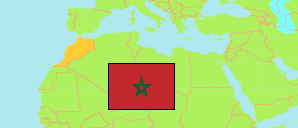 M'Diq - Fnideq
Prefecture in Tanger - Tétouan - Al Hoceïma
Prefecture
The population development of M'Diq - Fnideq.
Contents:

Urban Communes and Urban Centers

The population development of the urban communes and urban centers in M'Diq - Fnideq.

The
icon links to further information about a selected place including its population structure (gender, age groups, age distribution, urbanization, nationality, literacy (a10+), marital status).
Source: Haut Commissariat au Plan, Royaume du Maroc (web).