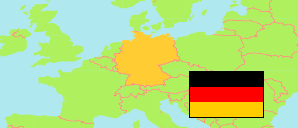 Frankenthal (Pfalz)
County-level City in Rhineland-Palatinate
County-level City
The population development of Frankenthal (Pfalz).
Name
Status
Population
Estimate
1995-12-31
Population
Estimate
2001-12-31
Population
Census
2011-05-09
Population
Estimate
2018-12-31
Frankenthal (Pfalz)
County-level City
48,371
47,827
46,415
48,561
→

Rheinland-Pfalz

[

Rhineland-Palatinate

]
State
3,977,919
4,049,066
3,989,808
4,084,844
Contents:

Cities and Communes

The population development of the cities and communes in Frankenthal (Pfalz).

The
icon links to further information about a selected place including its population structure (gender, age groups, age distribution, citizenship, country of birth, religion).
Source: Statistisches Bundesamt Deutschland (web), Statistisches Landesamt Rheinland-Pfalz.
Explanation: Communes and counties in the boundaries of 31 December 2018.