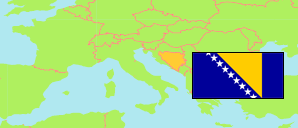 Goražde
in Goražde (Bosnian-Podrinje Canton)
Contents:

Urban Settlement

The population development of Goražde as well as related information and services (weather, Wikipedia, Google, images).
Source: Bosnia and Herzegovina Agency for Statistics (web).
Explanation: The tabulated population figures of 2013 overestimate the actual population because they include citizens of Bosnia and Herzegovina living and working abroad for many years. The Republika Srpska Institute of Statistics reports usually resident population figures that are about 5% less.
---
Further information about the population structure:
Gender (C 2013)
Males
5,660
Females
6,146
Age Groups (C 2013)
0-14 years
1,772
15-64 years
8,488
65+ years
1,546
Age Distribution (C 2013)
0-9 years
1,116
10-19 years
1,553
20-29 years
1,590
30-39 years
1,772
40-49 years
1,568
50-59 years
1,919
60-69 years
1,156
70-79 years
820
80+ years
312
Ethnic Group (C 2013)
Bosniaks
11,065
Serbs
392
Croats
20
Other group
263
---