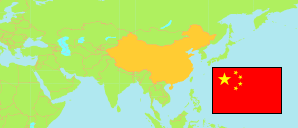 Jīnpíng Miáozú Yáozú Dăizú Zìzhìxiàn
Autonomous County in Yúnnán
Contents:

Population

The population development of Jīnpíng Miáozú Yáozú Dăizú Zìzhìxiàn as well as related information and services (Wikipedia, Google, images).

Source: China National Bureau of Statistics (web).

Explanation: The population changes are partly result of boundary changes. Status and division as of 2018, as far as sufficient information is available.
---
Further information about the population structure:
Gender (C 2010)
Males
188,133
Females
168,094
Urbanization (C 2010)
Rural
305,770
Urban
50,457
Age Groups (C 2010)
0-14 years
88,093
15-64 years
245,687
65+ years
22,447
Age Distribution (C 2010)
0-9 years
58,426
10-19 years
53,834
20-29 years
67,961
30-39 years
63,187
40-49 years
51,892
50-59 years
28,144
60-69 years
18,128
70-79 years
10,738
80+ years
3,917
Generations in Household (C 2010)
1
9,038
2
41,402
3
28,494
4+
2,645
---