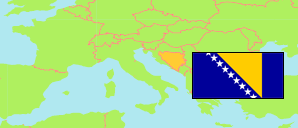 Velika Kladuša
Municipality in Bosnia and Herzegovina
Contents:

Population

The population development of Velika Kladuša as well as related information and services (Wikipedia, Google, images).

Source: Bosnia and Herzegovina Agency for Statistics (web), Republika Srpska Institute of Statistics (web).

Explanation: Different population definitions are used by the political entities in 2013. FBH & Brčko: The tabulated population figures include citizens of Bosnia and Herzegovina living and working abroad for many years. Thus, they overestimate the resident population. Republika Srpska: The tabulated population (except of the figures for ethnic groups and religion) corresponds to the usually resident population. It is about 5% less than the population reported for the other entities.
---
Further information about the population structure:
Gender (C 2013)
Males
19,889
Females
20,530
Age Groups (C 2013)
0-14 years
8,360
15-64 years
28,371
65+ years
3,688
Age Distribution (C 2013)
0-9 years
5,587
10-19 years
5,975
20-29 years
6,424
30-39 years
6,539
40-49 years
5,275
50-59 years
5,081
60-69 years
3,239
70-79 years
1,868
80+ years
431
Ethnic Group (C 2013)
Bosniaks
32,561
Serbs
146
Croats
636
Other group
6,407
Religion (C 2013)
Muslim
36,643
Orthodox
160
Catholic
305
Other religion
2,998
No religion
68
---